Philadelphia's Favorite Sports Apparel Company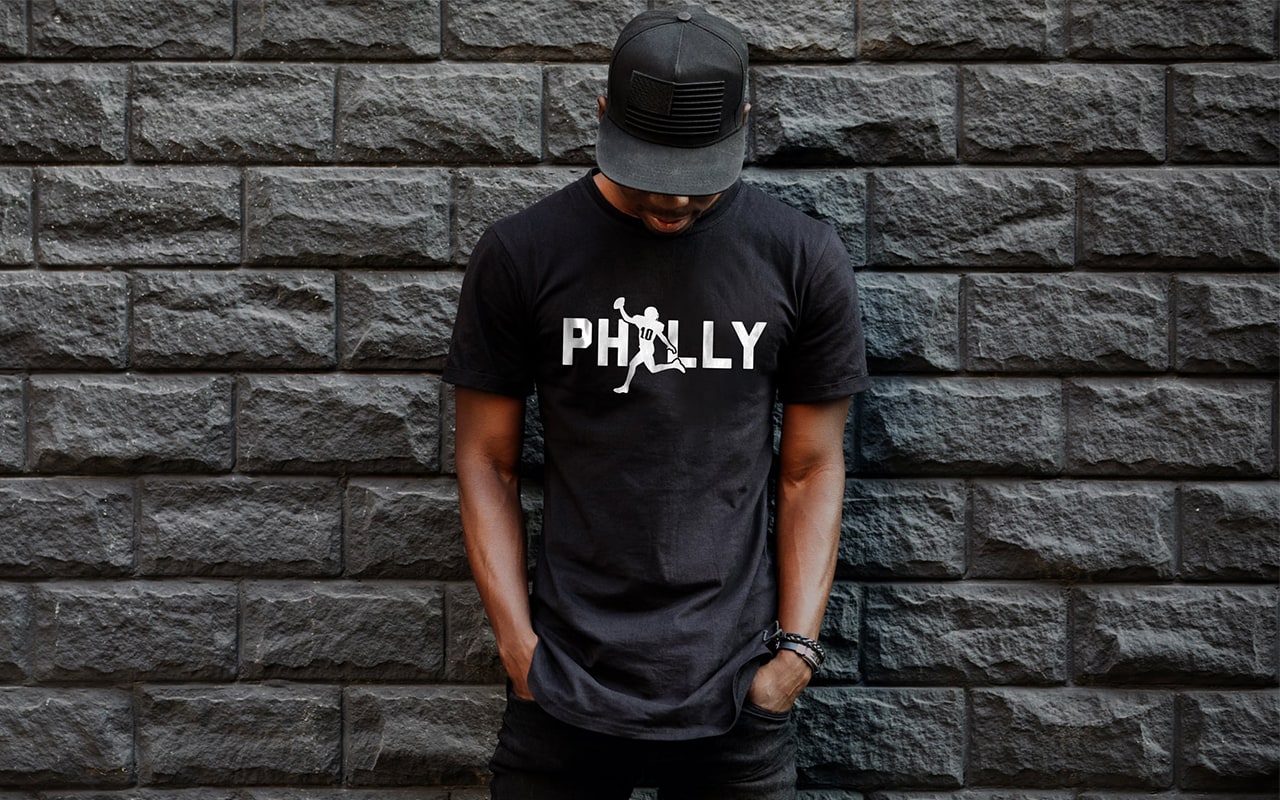 If you are like every other fan of Philadelphia sports you have probably realized by now that most of the sports apparel for the Sixers, Eagles, Phillies and Flyers all looks the same. Philadelphia sports fans deserve the best when it comes to sports apparel, and luckily for them we have the answer on how to get it.
Whether you are looking for a 76ers t-shirt, Eagles hoodie, Phillies Tee or Flyers gear the answer is simple: Shop at Philly Sports Shirts. We provide new and exciting sports apparel that Philadelphia cannot stop talking about! Our mission is to be the one Philadelphia sports merchandise company in the city that all fans turn to for awesome Sixers, Eagles, Flyers and Phillies gear. Join the thousands of others who have already experienced Philly Sports Shirts and discover why our apparel is a cut above what you've become accustomed to.
We make shopping for high-quality Philly Sports Apparel an exciting and enjoyable experience. Just like you, we are die-hard Philadelphia sports fans who want awesome clothes to wear to the sporting events we all love. We have years of knowledge and have become an industry leader in designing and manufacturing t-shirts and hoodies that fans cannot get enough of. In this company overview we will show you exactly what separates our apparel from the rest of the competition and how we are quickly becoming a staple for shoppers looking to buy Philadelphia sports merchandise.
Why People Can't Stop Talking About Us
In our minds, the old practice of throwing a logo on a t-shirt and calling it a day is over. The Philadelphia fan base has the right to sports apparel that offers more than that, right? When you browse our large collection of Sixers, Flyers, Eagles and Phillies inspired apparel you will notice how unique our graphics really are. They are not just unique to the city of Philadelphia, but to the t-shirt and apparel game as a whole. We take our graphic tees and hoodies very seriously and approach every new design with the mindset of creating the best t-shirt that Philly has ever seen. The history of the city, the spirit of the fans and the attitude of the players that play here are all aspects that we take into consideration when crafting a new design. We try our absolute best to provide graphics that will be universally accepted by the fanbase and ones they cannot wait to wear to their next game or tailgate! We promise that you won't find graphics like these anywhere else.
Philadelphia Sports Gear For Everybody
We live and breathe all the sports teams in the great city of Philadelphia and you should be able to do that as well! We know that not all Philly sports enthusiasts are made the same. Men, women and kids are all part of this amazing fanbase, which is exactly why we provide apparel for everybody. Our tees are designed to accommodate all the men, women and kids that cheer for the city's sports teams day in and day out. We carry a wide variety of styles and colors that will make sports goers of any age jump out of their seats.
One thing that we take into consideration to make our apparel accessible to everyone are the colors that we use. We use eye popping colors across our entire collection of Philadelphia sports attire. If you are a fan of one team or a fan of them all you can rest assured your true colors will always shine through because we use only the brightest and most vibrant greens, oranges, reds and blues.
Quality Apparel Goes a Long Way
Our apparel is fan-approved and perfect for any sporting event you could possibly attend! Whether you are cheering on your squad with a bunch of friends at a watch party, or you are experiencing the game live from the stadium, we have your back! Shop with confidence knowing that no matter what you order from our online store, that it is made with industry leading materials that you can trust. All of our apparel is made with the softest and most comfortable fabrics you will experience. The moment you put on one of our tees or hoodies you will notice the high level of quality. If you are headed to a day game at the ballpark, we have lightweight tees that will keep you comfortable from start to finish. If you are braving those cold winter months watching the Eagles at the Linc, our hoodies are the perfect choice to express your fandom and stay warm at the same time. Join the community of Philadelphia sports fans that have shopped with us and pick up a tee or hoodie today!

Philadelphia 76ers T-Shirts & Hoodies
Are you trying to find a new Sixers t-shirt or hoodie to wear to the game, only to keep finding the same old style everywhere you look? Well, we have great news. Your search is over! Browse our collection of 76ers inspired tees and hoodies and discover what thousands already have already found out; We carry the best Sixers gear on the planet! But seriously, we hold our tees and hoodies to a high standard. We like to give basketball enthusiasts something that they haven't seen in the past.
Checkout the entire collection of Sixers apparel here.
Philadelphia Eagles T-Shirts & Hoodies
If there is one thing we know, it's Eagles football apparel. We've been screaming E-A-G-L-E-S, EAGLES!! since we can remember and want to bring the city of Philadelphia something special with our birds t-shirts and hoodies. There is nothing more enjoyable than catching an Eagles game at Lincoln Financial Field on a crisp Sunday afternoon in Philadelphia. However, wearing a great piece of Eagles gear can make it even better! Browse our large selection of Eagles themed shirts and hoodies and take your game day to a whole new level. We have lightweight t-shirts and extremely warm and comfy hoodies to choose from. So no matter if you're at the first game of the season or braving the cold Sunday nights on Broad, we have exactly what you are looking for.
Checkout the entire collection of Eagles apparel here.
Philadelphia Phillies T-Shirts & Hoodies
There is something special about the sport of baseball in the city of Philadelphia. The ringing of the bell in center field, the antics of the Phanatic, or the drool-worthy aroma of Chickies Petes fries in the air all go into making Philly the best baseball town there is. We are proud to offer hoodies and shirts that will have you standing out from the crowd and cheering the Fighting Phillies on to victory all season long.
Checkout the entire collection of Phillies Apparel here.
Philadelphia Flyers T-Shirts & Hoodies
Hey Philly! Is there another team in this great sports city that can get you as hyped up as the Flyers? We didn't think so. The Flyers are an amazing franchise and their fans are the absolute best. Whether you are looking for an awesome Gritty t-shirt or a piece of vintage Flyers apparel, you are sure to find it here. We offer a great selection of amazing Flyers t-shirts and hoodies and are continuously adding to the collection.
Checkout the entire collection of Flyers apparel here.
Wrapping Everything Up
We are quickly becoming a Philly staple for sports merchandise and would be honored if you chose us to help you represent your love for the Sixers, Eagles, Phillies and Flyers. We love everything about the sports in this great city and promise to offer you only the best when it comes to finding great apparel to wear while cheering the teams on. We are constantly adding to all of our collections so be sure to check back often to see all of our new Philadelphia t-shirt and hoodie releases.