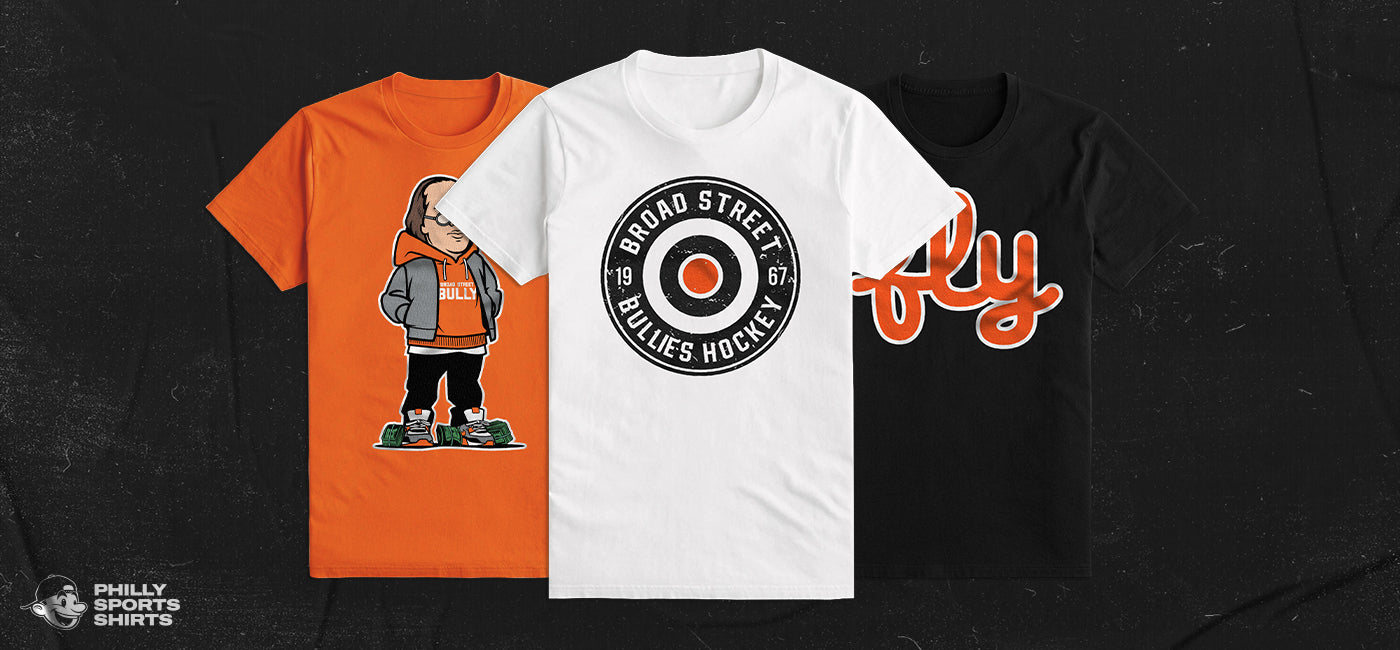 Apparel For Philadelphia Flyers Fans
Take the hockey world by storm this season with our collection of apparel designed specifically for Philadelphia Flyers Fans. Make a statement with spirited shirts, t-shirts, sweatshirts and more. Discover why Flyers fans are falling in love with our one of a kind style.
Shirts, Hoodies & Apparel for Philadelphia Flyers Fans
Hockey is taking the city of Philadelphia by storm. The Flyers are quietly becoming one of the most popular sports franchises in the city, and Philly Sports Shirts wants to provide you with the best apparel you will find anywhere. Our collection of t-shirts, hoodies and apparel designed for Flyers fans is fun and exciting! Whether you are shopping for yourself or looking for the perfect gift for someone else, Philly Sports Shirts has you covered. Shopping for Philadelphia Flyers apparel should be a fun experience! Make sure to browse our collection of exciting styles and colors.
Philadelphia Flyers Shirts
At Philly Sports Shirts, we understand that there is nothing like experiencing a Flyers game. The non-stop action, electric goals, and hard hits are what makes the sport so fun. We strive to make those experiences even better by offering the coolest shirts you will find anywhere to show how much you love the Broad Street Bullies. We have plenty of sizes and styles of tees to choose from. If you are shopping for a classic Flyers t-shirt or long sleeve tee, we have you covered! Philly Sports Shirts promises that our tees are the most comfortable, form fitting and durable t-shirts available. Watch your team take the ice in style and grab one of our great tees today!
Philadelphia Flyers Hoodies
Enhance your love of the Flyers and browse from our amazing selection of hoodies. If you are looking for a soft, comfortable and well-fitted Flyers hoodie, you are in luck. Our hoodies are a staple for Flyers fans and feature one of a kind designs that you won't be able to find anywhere else. When shopping for Philadelphia Flyers hoodies be sure to give our hockey collection a look.
Gritty T-Shirts & Hoodies
Shop from a wide variety of men, women and kids sizes of t-shirts and apparel featuring one of the best mascots in the game! Gritty is so much more than our hockey team's mascot. With his crazy antics and rebellious attitude, Gritty represents Flyers hockey and the city of Philadelphia perfectly. Our customers love the Gritty shirt and hoodie designs and you will too. Elevate your hockey experience and pickup one of our tees or hoodies today!