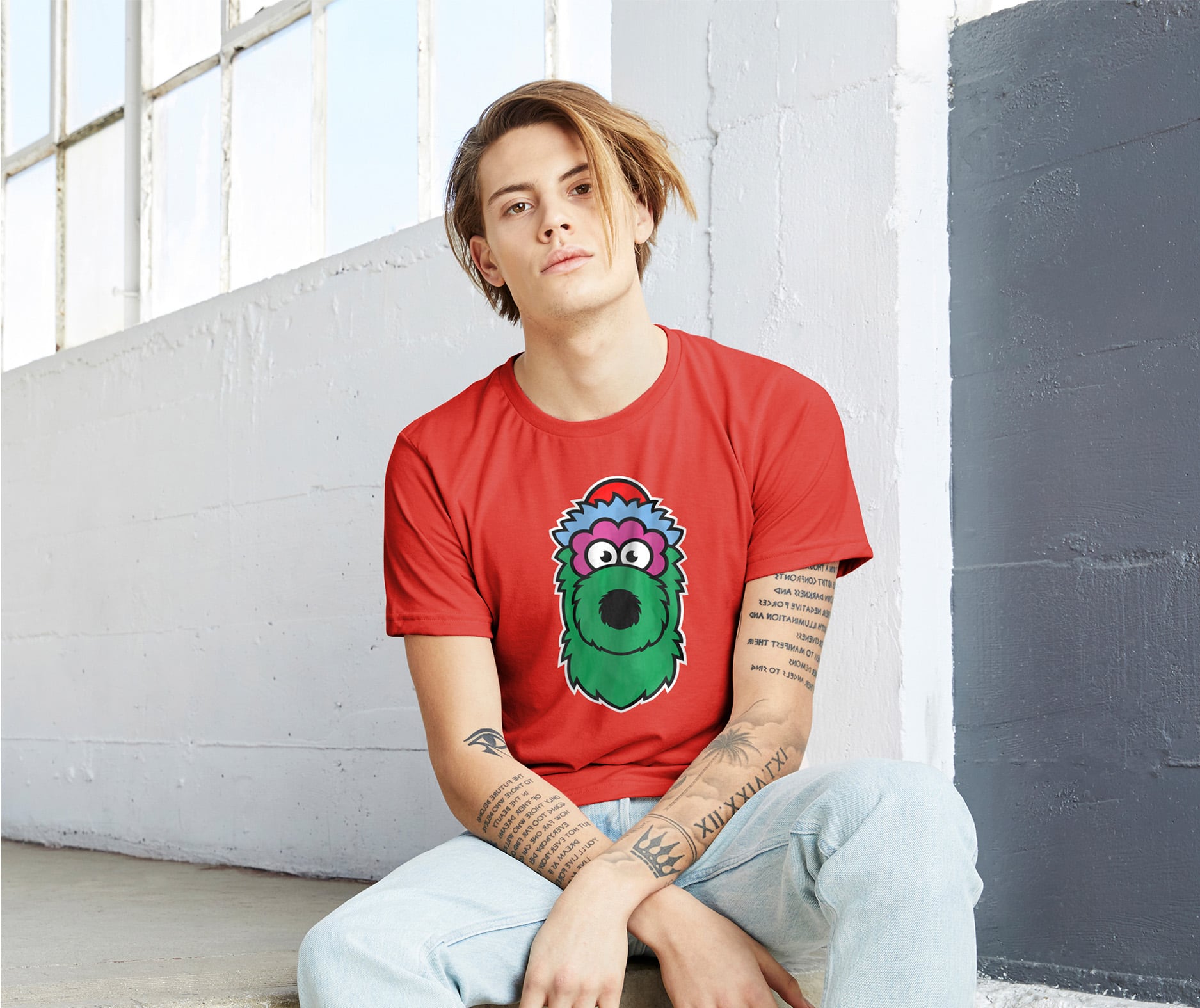 The Ultimate Online Shop for Philadelphia Phillies Apparel
The ultimate Philadelphia Phillies apparel shop. Browse hoodies, tees, and more for the whole family!
Celebrating Philly Spirit
Hey there, fellow Philly fans! You know, there's nothing like the camaraderie and spirit that binds us, especially when we are cheering for our favorite team dressed in the iconic Phillies apparel. It's more than just clothing; it's a sentiment, a statement of being a part of something bigger. At Philly Sports Shirts, we get that, and hence we bring you an array of Phillies apparel that helps you showcase your Philly spirit loud and proud.
Phillies Apparel for All
Whether you're a seasoned Phillies enthusiast or a budding fan, there's something for everyone in our expansive collection. From toddlers to adults, our Phillies apparel range ensures that every fan gets to flaunt their allegiance to the Phillies team, fashionably and comfortably. Let's take a stroll through the remarkable variety we've got lined up for you!
Phillies T-Shirts
Classic Phillies T-Shirts
Step into the world of Phillies T-shirts that echo the vibrant energy of Philadelphia. Our collection features an array of designs, from the vintage vibes to the modern chic, ensuring your Philly pride is showcased in style. The classic Phillies T-shirts are a hit at every game, bringing together fans of all ages. Made with premium fabrics, these t-shirts promise not just style but unmatched comfort. Dive into the range and find your perfect fit today!
Kids Phillies T-Shirts: For the Little Fans
The little fans are no less when it comes to cheering for the Phillies. Our Kids Phillies T-shirts collection is designed to cater to the young hearts, with vibrant colors and playful designs that are just as energetic as they are. Whether it's game day or a casual day out, these T-shirts are sure to light up the faces of the little ones. Crafted with care and comfort in mind, these T-shirts ensure that the kids can play, jump, and cheer to their heart's content while flaunting their Philly pride.
Philadelphia Phillies Hoodies
Stay Warm with Phillies Hoodies
As the seasons turn and the cool breeze starts to sweep across Philly, there's no better companion than a warm, snug Philadelphia Phillies hoodie. Phillies hoodies are not just a shield against the cold but a representation of your favorite team, keeping you warm and spirited in the cooler months. Made from materials that promise warmth and comfort, these hoodies are the perfect definition of style and utility. Adorned with iconic designs, they resonate with the heart and history of Philadelphia, promising not just warmth but a sense of belonging and pride.
Exclusive Collection of Phillies Hoodies
Our collection of hoodies shows off an impressive range of designs. Each piece tells a story of the passion, the spirit, and the heart of a true Phillies fan. Dive deep into the collection to find hoodies that speak to you, that reverberate with your spirit. From vibrant colors to subtler hues, there is a hoodie for every fan, for every mood. The high-quality prints ensure that your Philly pride remains as steadfast and vibrant as the prints, even after numerous washes.
At Philly Sports Shirts, we understand that a perfect fit means comfort, style, and confidence. That's why we have put together a detailed size guide to help you find your perfect fit. Whether you like it snug or prefer a looser fit, our size guide has got you covered. Find the size that suits you best and wear your Phillies hoodie with pride and comfort.
Phillies Crewnecks
The Comfort of Phillies Crewnecks
When it comes to comfort coupled with style, nothing beats our Phillies Crewnecks. These pieces are crafted to give you a cozy feel with every wear, allowing you to enjoy the game without any hassle. Each crewneck bears the iconic Phillies imagery, a true celebration of the Philly spirit. Whether you're at the stadium or lounging at home, a Phillies crewneck promises comfort at its best.
The Story Behind Phillies Crewnecks Designs
Every piece of apparel tells a story, and Phillies Crewnecks are no different. The designs draw inspiration from the rich history and vibrant culture of Philadelphia, bringing a piece of Philly spirit into everyday wear. With each design, we aim to evoke a sense of pride and nostalgia, transporting you to the iconic moments that define the Phillies legacy. Dive into the stories that each crewneck carries, a true testament to the passionate spirit of Philly.
Why Phillies Crewnecks are a Must-Have
Why should a Phillies crewneck find a place in your wardrobe? Because it is more than just a piece of clothing. It is a statement of support, a nod to the history, and a ticket to the vibrant Phillies community. The crewnecks not only offer unparalleled comfort but also open a doorway to a community bound by the same passion and spirit. Owning a Phillies crewneck is not just owning a piece of apparel; it is owning a piece of history, a piece of Philly.
Kids Phillies Shirts
Making Game Day Special for the Little Ones
When it comes to celebrating the Phillies spirit, the little ones are never left behind. Our range of kids shirts is specially designed to make the game day a memorable event for the young fans. The vibrant colors and playful designs will surely catch their eyes, adding to the excitement and joy of supporting their favorite team.
Choosing the Perfect Kids Phillies Shirt
While choosing a Phillies shirt for the little ones, comfort comes first. Our collection ensures a comfy and snug fit for kids, allowing them to enjoy the game day to the fullest. From vibrant graphic tees to classic Phillies shirts, there is something for every little fan in our collection. Guide your young one in choosing a shirt that resonates with their style and lets them flaunt their Phillies pride with joy.
Kids Phillies Shirts: Fabric and Care
We prioritize comfort and durability in our kids' collection. Each piece is crafted with fabrics that are soft on the skin yet durable to withstand the energetic antics of the little ones. Plus, the easy care instructions ensure that the shirts remain vibrant and fresh, wash after wash, allowing the young fans to enjoy their favorite Phillies shirts for a long time.
The Ultimate Phillies Apparel
Mix and Match: Creating the Ultimate Phillies Look
Why settle for one when you can have a complete Phillies look? At Philly Sports Shirts, we encourage fans to mix and match pieces from our collection to create the ultimate Phillies ensemble. Pair a classic Phillies t-shirt with a warm hoodie or a stylish crewneck to get the perfect game-day look. Explore the collection and let your creativity run wild as you mix and match to create a Phillies look that is uniquely yours.
Phillies Apparel: Beyond Just Clothing
Our apparel is more than just clothing; it's a way to connect with a community of like-minded fans, a way to carry the Phillies spirit wherever you go. Each piece is a conversation starter, an ice-breaker, a way to forge bonds with fellow fans. When you wear Phillies apparel, you wear a sense of belonging, a sense of pride, and a sense of community.
Phillies Apparel for Every Season
Be it the sunny summers or the chilly winters, we have Phillies apparel for every season. Our collection ensures that you can showcase your Phillies pride all year round, come rain or shine. From cool t-shirts to warm hoodies, find Phillies apparel that suits every weather, allowing you to be a proud Phillies fan in every season.
Conclusion
Carry the Philly Spirit Wherever You Go
At Philly Sports Shirts, we strive to ensure that the vibrant Philly spirit is carried wherever you go. Each piece of apparel is crafted with love and passion, ensuring that you can wear your Philly pride on your sleeve, quite literally. As you step out in your Phillies apparel, know that you carry with you a rich legacy of sportsmanship, camaraderie, and the undying spirit of Philadelphia.
Unbeatable Range of Phillies Apparel
Our collection is a testament to the vibrant and passionate Phillies community. With an unbeatable range of styles, sizes, and designs, we bring to you Phillies apparel that is unmatched in quality and spirit. Whether you are a lifelong fan or just beginning your journey as a Phillies enthusiast, our collection promises something for everyone. Dive into the world of Phillies apparel at Philly Sports Shirts and become a part of a legacy of passion, spirit, and community.