15% OFF SALE! DISCOUNT APPLIED IN CART.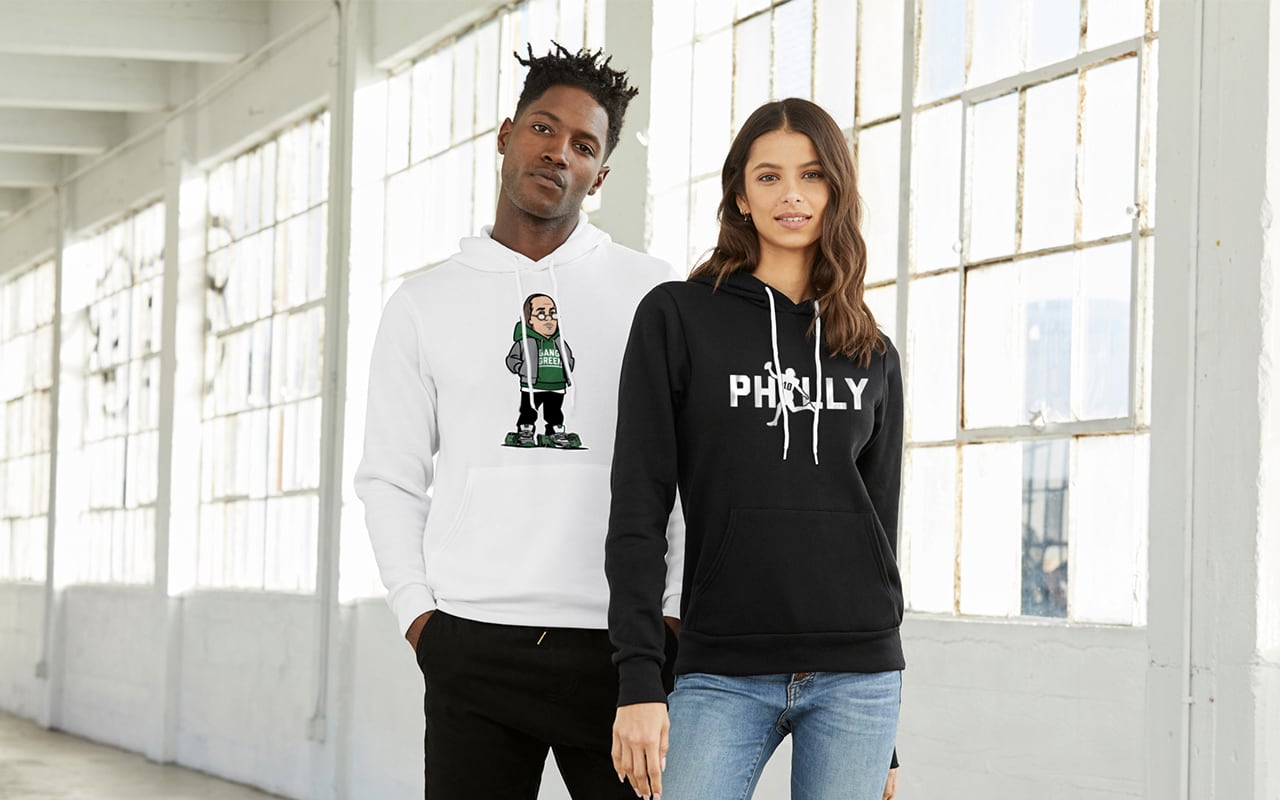 2023 Eagles Apparel Collection
Our designs reflect the Eagles' strength, resilience, and the unity of their fans. As we usher in a new season, every piece in our collection stands as a testament to the spirit of Philadelphia and the die-hard love for our beloved Eagles.
A Season of Style, Comfort, and Creativity
The anticipation for the 2023 Eagles season is higher than ever, and at phillysportsshirts.com, we're thrilled to fuel that excitement with our latest apparel collection built for Eagles fans everywhere. From t-shirts to hoodies, our lineup is crafted with an unwavering commitment to quality, ensuring that you'll not only look great but feel great in your Eagles gear.
Unleashing Creativity and Passion for Eagles T-Shirts
The Eagles' fanbase is known for its fervor, and our t-shirts are designed to capture that fiery spirit. This year, we're rolling out new designs crafted by incredibly talented artists who share your passion for the Eagles. These tees are more than just clothing; they're wearable expressions of Eagles pride, created with artistic brilliance that truly resonates with fans.
From the textures to the graphics, every aspect of these t-shirts is meticulously crafted. Expect imaginative, eye-catching designs that are as unique and spirited as the fans who wear them.
Comfortable Eagles Hoodies for Game Day and Beyond
There's nothing like the thrill of being at the stadium or tailgating with fellow fans, and our Eagles hoodies are the perfect companion for those moments. Designed with comfort in mind, these hoodies provide warmth without sacrificing style. Their unique blend of materials ensures that you stay cozy even in the chilliest of game days.
Whether you're cheering from the stands or hosting a tailgate, our hoodies are made with quality that stands up to excitement, enthusiasm, and, of course, those spontaneous victory dances.
Building the Future of Eagles Fan Apparel with our Kids Collection
We believe that Eagles pride knows no age limit, and that's why we're dedicated to building out our kids' collection. This year, we'll be introducing new designs and styles tailored to our youngest fans. From playful graphics to quality materials that can withstand energetic play, our kids' collection is all about celebrating the joy of being an Eagles fan from the earliest years.
We understand the importance of comfort and durability, and our kids' apparel embodies that, offering something special for the little Eagles fans to wear with pride and excitement.
Expanding our Fan Favorite Eagles Crewneck Collection
Last season's Eagles crewnecks were a hit, and we've heard your feedback loud and clear. This year, we're expanding this collection with new designs and even higher quality materials. Our crewnecks are more than just stylish; they represent a connection between the team and the fans, offering a comfortable and sleek way to showcase Eagles loyalty.
Whether you're after a classic look or something more modern, our crewnecks offer comfort, quality, and a true reflection of Eagles culture.
The Future is Bright and Full of Eagles Pride
At phillysportsshirts.com, we never stop innovating. Our passion for the Eagles drives us to continually add to our collection, ensuring that your fan experience is as fresh and exciting as a game-winning play. Every piece we create is a tribute to the team, the fans, and the city we love.
With the 2023 season on the horizon, we're thrilled to invite you to join us in celebrating the Eagles with apparel that's thoughtfully designed and crafted with quality at its core. It's more than just apparel; it's a community, a tradition, and a way to carry the Eagles spirit with you wherever you go. Fly, Eagles, Fly, and let's make this season one to remember!